Caravan Palace, Panic and Ugo Gattoni

A brief insight into one band I like to force down my lugholes when designing.
If you have not heard anything by Caravan Palace then I strongly recommend you listen to one of their songs now. Right now. I have handily linked a hit from their debut album called Suzy below. Don't worry I'll wait.
…
Listening? Good OK well while that is washing over you also take time to admire the album artwork of both their first and second albums (currently they only have the two).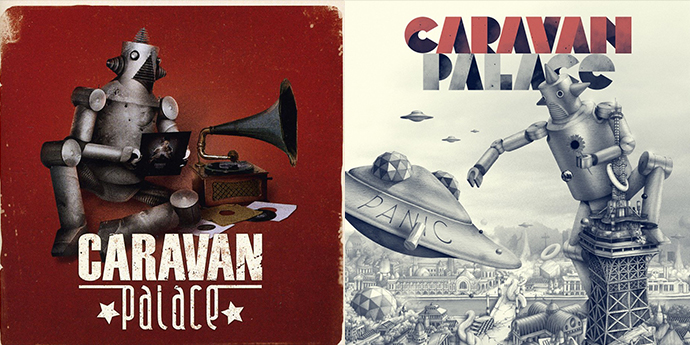 The left of these two images is from their first album, aptly and downright unimaginatively named 'Caravan Palace'. The right image is from their new(ish) 2012 album called Panic.
I do know for sure that the concept artist for the 'Panic' artwork is a French illustrator called Ugo Gattoni. Now whether he also did the original album artwork I'm unsure, and I wouldn't want to say for certain that he did, just in case.
This here is a link to Ugo Gattoni's website. While the site is in French it shouldn't take an enormous amount of brain noodles to figure out how to view some of his work, which is fantastic. A mixture of incredibly detailed fine art and surrealism.
This band brand themselves as being electro swing and gypsy jazz, and in honesty I couldn't think of a more suitable made-up genre. The music itself dares you not to scooch around in your seat or twitch your limbs when it's playing. It honestly brings a smile to my face and I am genuinely gutted that I have not had a chance yet to go and see them live, as I have heard that their performances are incroyable!
ColourCrime x